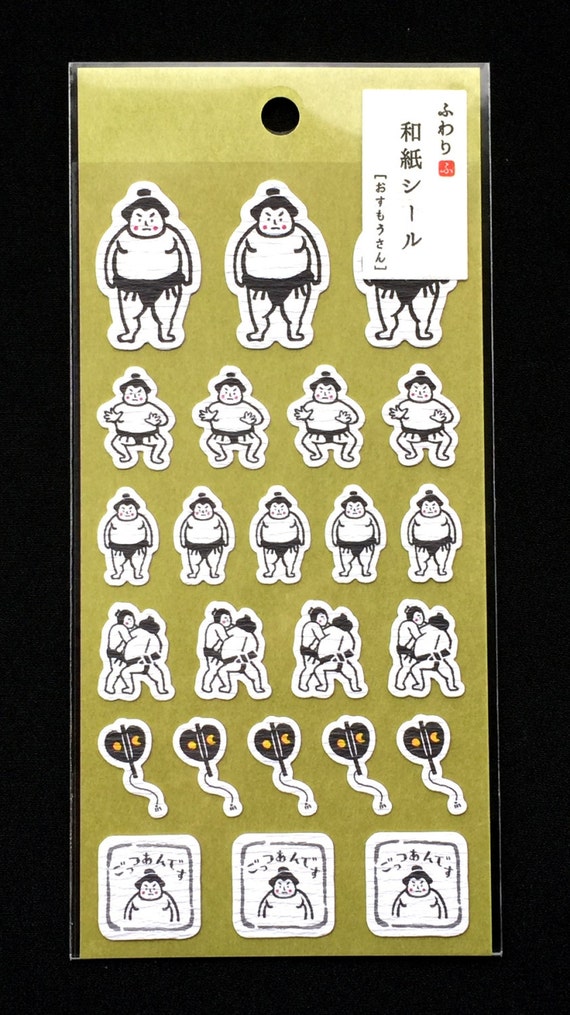 Japanese Stickers - Sumo Wrestler Stickers - Chiyogami Paper Stickers
These are very cute chiyogami paper sumo wrestler stickers!
They are made from Japanese paper.
https://www.etsy.com/listing/269201414/japanese-stickers-sumo-wrestler-stickers
**********************************************************
Our Etsy Stores:
Supplies-
FromJapanWithLove.etsy.com
Vintage-
VintageFromJapan.etsy.com
We will combine shipping if you buy from any of our stores.
Current Location:

Japan

Current Mood:

amused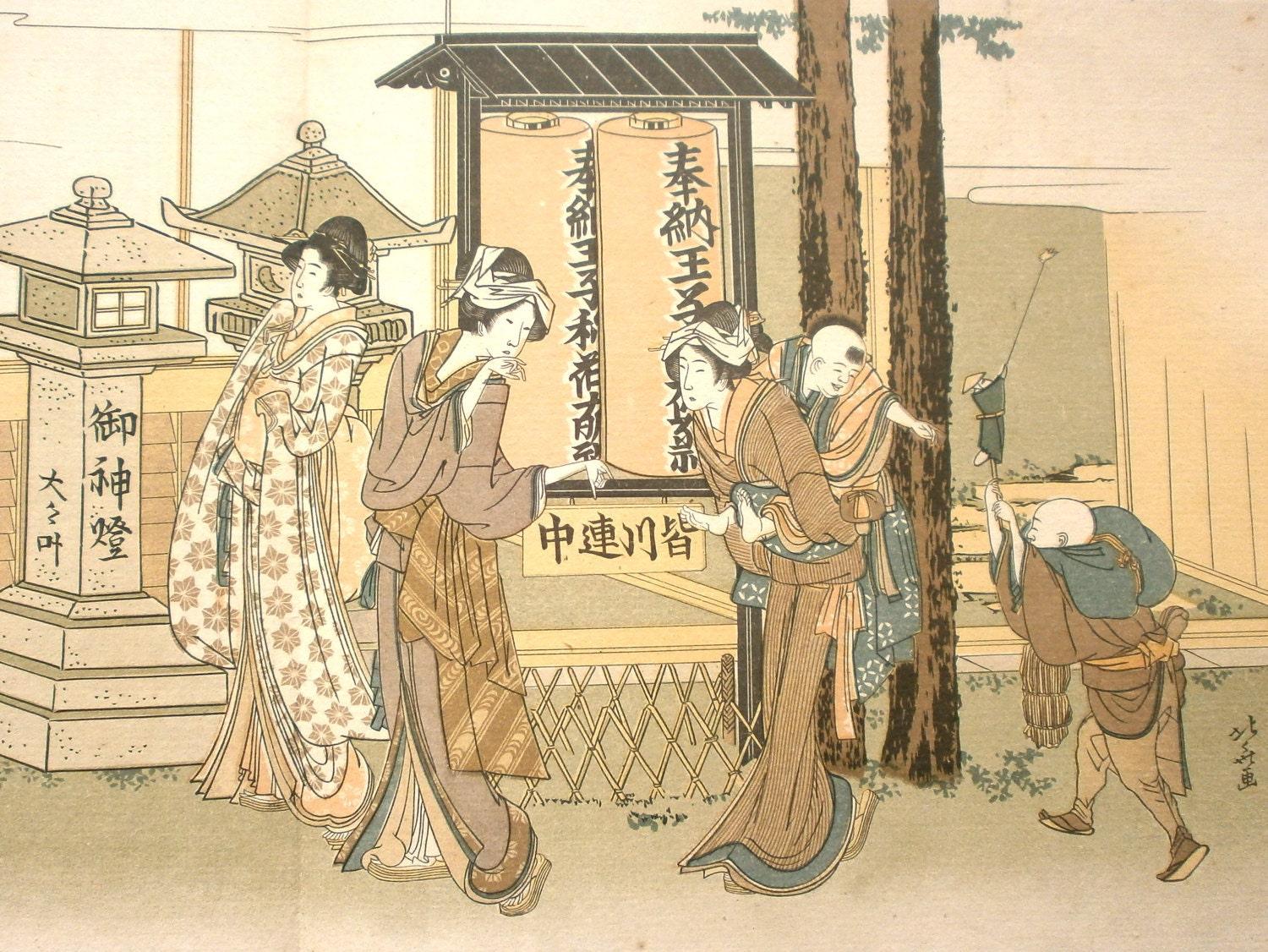 It is a print from Art magazine insert. In this print, There is a group of beautiful woman going to the Inari Shrine at Oji for Pilgrimage. There are also cute baby on the back of one of women and baby-sitter behind them.
An Inari shrine (Inari Jinja) is a shinto shrine to worship the god Inari. There are many Inari shrines in Japan. The deity is worshiped also in some Buddhist temples.
The original painting was made by Katshushika Hokusai.
Katsushika Hokusai (October 31, 1760 – May 10, 1849) was a Japanese artist, ukiyo-e painter and printmaker of the Edo period.[1] He was influenced by such painters as Sesshu, and other styles of Chinese painting. Born in Edo (now Tokyo), Hokusai is best known as author of the woodblock print series Thirty-six Views of Mount Fuji (Fugaku Sanjūroku-kei?, c. 1831) which includes the internationally recognized print, The Great Wave off Kanagawa, created during the 1820s.
Hokusai created the "Thirty-Six Views" both as a response to a domestic travel boom and as part of a personal obsession with Mount Fuji. It was this series, specifically The Great Wave print and Fuji in Clear Weather, that secured Hokusai's fame both in Japan and overseas. As historian Richard Lane concludes, "Indeed, if there is one work that made Hokusai's name, both in Japan and abroad, it must be this monumental print-series...". While Hokusai's work prior to this series is certainly important, it was not until this series that he gained broad recognition.
It is vintage so there are some imperfections. There are paper cuts and discolorations on this print. The 4th and last photo show those parts.
This would be beautiful framed and displayed but it could also be used in mixed media art.
It measures about 51.7 cm wide x 38 cm long.
******************** When we bought this it was already folded in three (because it was a magazine insert). Unfolded it is too big to send so we will send it folded.
To see more vintage prints, please click here
http://etsy.me/2eRcmY7
https://www.etsy.com/listing/292974097/japanese-print-magazine-insert-vintage?utm_source=OpenGraph&utm_medium=PageTools&utm_campaign=Share
This hand towel is called a "tenugui". A Tenugui (手拭い) is a thin Japanese hand towel made of cotton. It is typically plain woven and is almost always dyed with some pattern. It can be used for anything a towel could be used for - as a washcloth, dishcloth, but often as a headband, souvenir or decoration. Towels made from terry cloth have replaced many of its use in the household. However tenugui are still popular as souvenirs, decorations, and as a head covering in kendo, where it functions as a sweatband, as extra padding beneath the headgear (men), and to identify the participants by team color.
It is 35 cm x 87 cm (approx 34 x 13 inches) and is 100% cotton.
http://www.ebay.com/itm/Japanese-Hand-Towel-Traditional-Tenugui-100-Cotton-Cherry-Blossoms-Pastels-T12-/132197641528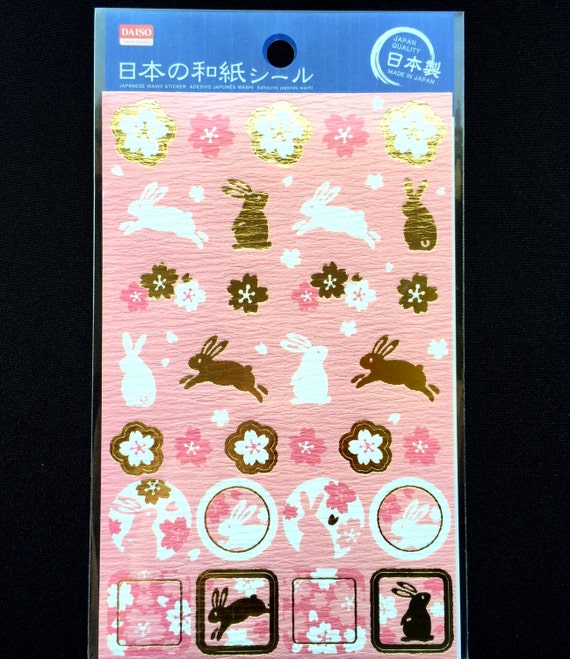 This is a beautiful sheet of Japanese stickers. They are made of washi paper. There are many cherry blossoms and rabbits and lots of gold!
For more beautiful Japanese stickers
http://etsy.me/1zBfOLO
This is cute! There are lots of cherry blossoms!
It measures 1.5cm x 5m
These would be perfect for scrapbooking, card making or any project you can think of!
http://www.ebay.com/itm/Japanese-Masking-Tape-Japanese-Tape-Cherry-Blossom-Tape-Blue-Tape-/142044446567
These deco pens can be used with mayonnaise, ketchup, mustard etc to draw messages and pictures on food!
There are 3 sizes of pens.
Please wash by hand.
http://www.ebay.com/itm/Bento-Deco-Pen-Food-Pen-Food-Drawing-Pen-Set-of-3-/142041317263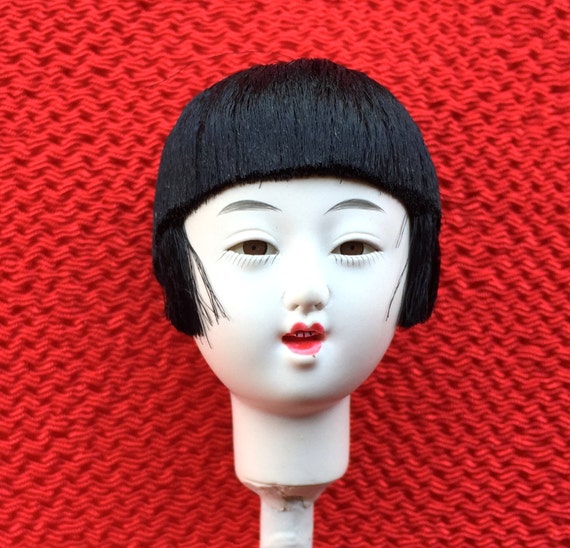 Here is a very cute doll head meant for Hina Matsuri. She is made from clay.
About Hina Matsuri
Platforms with a red hi-mōsen are used to display a set of ornamental dolls (雛人形, hina-ningyō) representing the Emperor, Empress, attendants, and musicians in traditional court dress of the Heian period. The custom of displaying dolls began during the Heian period. Formerly, people believed the dolls possessed the power to contain bad spirits.
She measures 7.5 cm long to the end of the stick and about 8.5 cm around.
https://www.etsy.com/jp/listing/271132522/japanese-doll-head-hina-matsuri-japanese
**********************************************************
Our Etsy Stores:
Supplies-
FromJapanWithLove.etsy.com
Vintage-
VintageFromJapan.etsy.com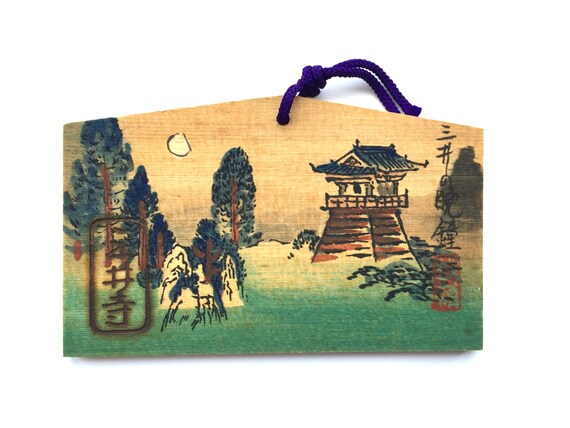 Japanese shrine wood plaque Mii-dera Temple by VintageFromJapan
This is an "Ema". "Ema" are small wooden plaques on which Shinto worshippers write their prayers or wishes. The ema are then left hanging up at the shrine, where the kami (spirits or gods) receive them. They bear various pictures, often of animals or other Shinto imagery, and many have the word gan'i (願意), meaning "wish", written along the side. In ancient times people would donate horses to the shrines for good favor, over time this was transferred to a wooden plaque with a picture of a horse, and later still to the various wooden plaques sold today for the same purpose.
Ema are sold for various wishes. Common reasons for buying a plaque are for success in work or on exams, marital bliss, to have children, and health. Some shrines specialize in certain types of these plaques, and the larger shrines may offer more than one. Sales of ema help support the shrine financially.
This Ema is for thriving business and rush of business. There are a kid in Japanese traditional clothe doing "dog-walking" and a dog is pulled by him .
********This Ema is from Mii-dera (三井寺,御井寺?), formally called Onjō-ji (園城寺?), - a Buddhist temple located at the foot of Mount Hiei, in the city of Ōtsu, in Shiga Prefecture. It is only a short distance from both Kyoto, and Lake Biwa, Japan's largest lake.
三井の晩鐘 - The evening bell at Mii-dera - Bonsho (Japanese: 梵鐘, Buddhist bells), also known as tsurigane (釣り鐘, hanging bells) or ōgane (大鐘, great bells) are large bells found in Buddhist temples throughout Japan, used to summon the monks to prayer and to demarcate periods of time. Rather than containing a clapper, bonshō are struck from the outside, using either a handheld mallet or a beam suspended on ropes.
This Ema is 20th in August, the 3rd year of the Heisei Era (1991).
It measures about 14.6 x 9.1 x 0.5 cm thick.
**********************************************************
Our Etsy Stores:
Supplies and more
FromJapanWithLove.etsy.com
Vintage
VintageFromJapan.etsy.com
We will combine shipping if you buy from any of our stores.